"why custom web design" – if you are looking for custom website design and development in Pune then this is the right place to find custom web design and development in Pune"
"why custom web design ?????"
Every business wants to be unique. So when it says unique that means customise in all forms. So, now every business demands custom website. Rushabh Brainstormers https://www.rushabhbrainstormers.com/always make sure that your website is optimised to ensure that you're reaching the right people by customising your recommendation.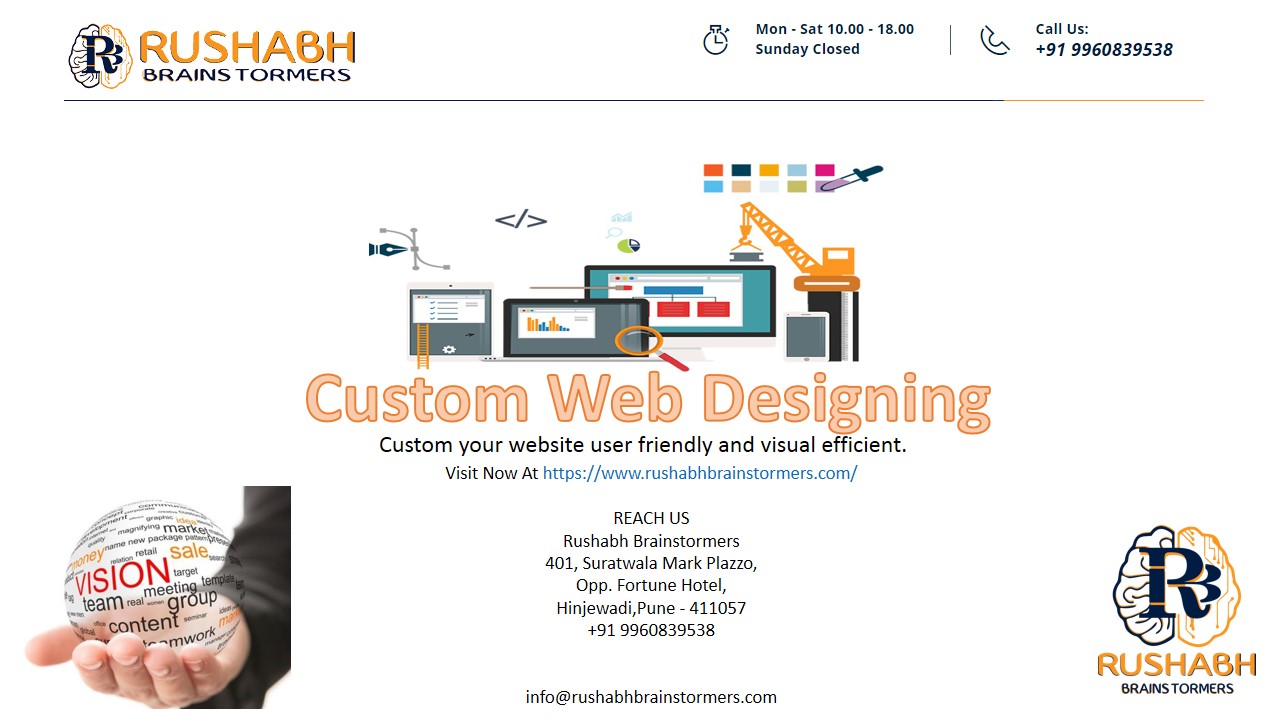 Web Development Company in hinjewadi
Formulate Based on your Recommendation:
Custom web design are categorically build based on individual brand, business, or product, and particularly customised for your audience.
Custom web design allow you to customised your unique design and layout including information on fonts, colors, title, and background.
So, Custom web design gives you a satisfaction of uniqueness and stand a class isolated.
Custom web design and development in Pune
High Return of Interest:
Custom build website is designed and developed keeping the business objective and target audience in mind, which result website yield more "RETURN OF INTEREST".
User Friendly and Visual Efficient:
Being business oriented , organisation focus on driving traffic and boosting sales. Custom design provide more and more option to make your website visually interesting and effective and also ensure efficient communication with visitors. Developer assume and always count on user expectation and then tailor the development process accordingly to make it user friendly.
Custom website design and development in pune
SEO and Visibility:
In order of developing, implementing, and managing marketing campaign to promote the company and its products and services, every digital marketing expert prefer custom build website; so that they can achieve better search engine ranking. Since custom build website is personalised and user friendly it will impact rapidly in this intense phase of competition for visibility.